Saturdays in April: Better Mountain Biking at Dead Horse Ranch SP
Ranger Randy Victory will teach you Better Mountain Biking techniques at Dead Horse Ranch SP. The sessions start at Noon and go until 4:00, "or when everyone gets tired." The rides are fun and educational for beginners, but even experienced bikers ride with new skills and knowledge. The rides will start at the Raptor Trailhead at the top of Roadrunner Road in the park. For more information, call Ranger Victory at 928-301-1190 or email rvictory(at)azstateparks.gov. The Day use fee of $7.00 applies, or Annual Passes are accepted. In addition there will be a program fee of $5.00 per rider collected at the time of the session.
April 13 & 14: History of the Soldier at Fort Verde SHP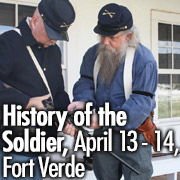 Come experience a military timeline of our history, from the Revolutionary War to present day at Fort Verde SHP. Presentations, military drills, fashions show, dutch oven demos, and a non-denominational period church service Sunday morning. The camps, cannon and soldiers will all be on the parade field for this annual event. Event sponsored by Hold the Fort. Download Event Flier (934 KB PDF).
April 13: Bat Day at Kartchner Caverns SP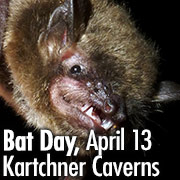 A celebration of all things bat related, and the return of the Myotis velifer bat colony to Kartchner Caverns SP. Event includes presentations in the theater by visiting bat experts, plus children's activities throughout the day.
11:00 am: Ted Fleming: "The Columnar cactus-nectar bat connection"
Noon: Sarah Kirk: "Bats of Arizona"
1:30 pm: Yar Petryszyn, PhD: "Bat specimens from the Univ. of Arizona Mammal Collection"
2:30 pm: Ronnie Sidner, PhD: "Bats of Kartchner Caverns"
April 20: Picture Perfect Park Wine & Food at Lost Dutchman SP

A food and wine benefit for Lost Dutchman State Park hosted by the Friends of Lost Dutchman State Park.
5 – 7 pm. Tasting and entertainment
8 – 10 pm. Dr. Sky Star Show
Food by Mining Camp Restaurant. Wine by Action Wine and Spirits U.S. Silent auction prizes and raffle items can be seen on ticket website. Proceeds go to trail and campsite improvements at the park, plus programs for underprivileged kids, and other great offerings at the park. Thank you for helping with this fundraiser. Online tickets and more information. Single ticket $35. Couple ticket $60.
Source: Arizona State Parks