Back around 1993 when I was working at the Palo Verde Nuclear plant. The manager (Ralph Ochoa) of the department I was working in (Engineering and Technical Support) would often come around at lunch time just to hang out eat his lunch with us. He knew that two of us were treasure hunters, (as was he) and that was usually the subject of our lunchtime discussions. One day I had a copy of the Ortiz Map that I had copied from Helen Corbin's Book
CURSE OF THE DUTCHMAN'S GOLD
sitting on my desk and it caught his attention.
Helen Corbin's Map and Letter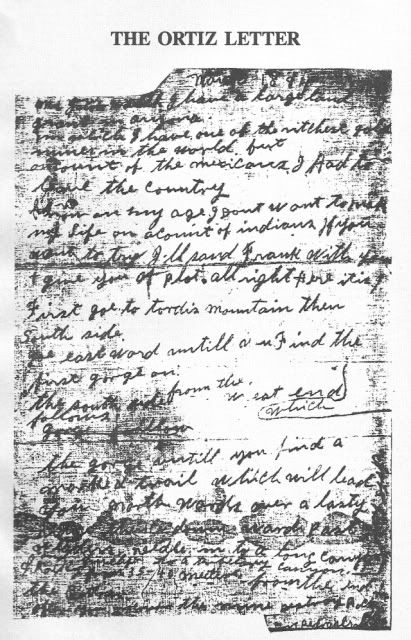 He picked it up and studied it briefly and then said. "You know this is not the original map don't you"?
I told him that I did not know that, and asked if he had a copy of the original map?
He said he was pretty sure he had a photograph of it, and would look for it when he got home that evening. The very next day he came in at lunch time with the photo and allowed me to make a xerox copy of it.
The Barrigan Map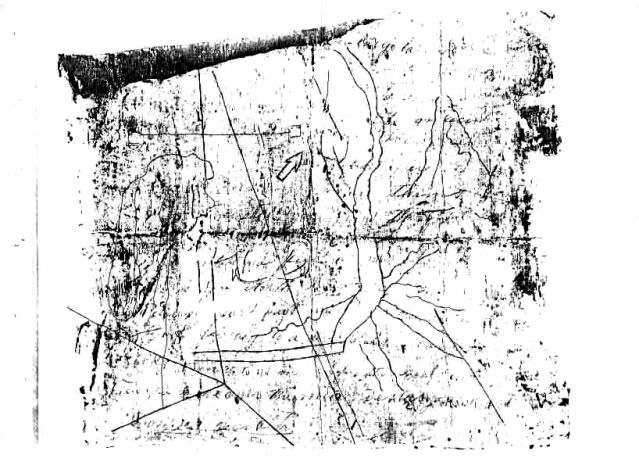 I asked him if he knew the history of the map and he told me the following: The last he knew his Aunt (Genevieve Barrigan - 92 years old at the time) still had the original, but he hadn't talked to her in a long time. He said she was still alive and living in Whitter, Calif. and that she could tell me the story behind it much better that he could and handed me her phone number.
I called her as soon as I got home that evening and we talked for about 30 minutes. From her I learned that she and he husband had run a General Store in the Globe/Miami area (I forget the time frame) and that prospectors were always trying to get her husband to grubstake them for another trip into the mountains looking for one old lost mine or another.
One day a prospector (Named Gonzales) came in with this map and offered to let Mr. Barrigan make a copy of it for a grubstake. Mr. Barrigan agreed under the condition that the Prospector make a copy of it for himself, and gave the original to Mr. Barrigan. It took a while but the Prospector finally agreed and the deal was made. Unlike the original map where the map and text appear on the same page. When the Prospector made his copy, he drew the map and text on separate pages. (As it is shown in Helen Corbin's book)
Mr. Barrigan never saw the Prospector again. I asked Mrs. Barrigan if she still had the map? She said no, that she had given it to her son (who is a Dentist) after Mr. Barrigan died, and the last she knew he had it framed, and hanging on the wall of his waiting room in his Dentist's office.
I was just about to ask her for her son's contact information, when she announced that she had to go, because her daughter was there to take her out to dinner.
I let it sit for a few days... The next thing I knew Ralph Ochoa came up to me and asked if I had had a chance to talk to his Aunt Genevieve? I told him that I did, and he said good, because she had passed away unexpectedly the night before.
I was so shocked that I didn't even think to ask Ralph if he knew her son that was a Dentist and had any contact information for him.
It was about this period of time when I got seriously interested in the Stone Maps, and the Ortiz Map slipped away to the bottom of my priorities.
I believe the original map is probably still hanging on the wall of Mrs. Barrigan's son's waiting room somewhere in southern Calif. (assuming he is still practicing Dentistry).
It might be possible that some of the guys who spend a lot of time on Ancestry.com, could connect some of the dots that will lead to the right Dentist's office.
The only thing I could come up with in the text part of the maps that led me to believe that one was a copy of the other, is near the bottom where one says "35
-
40" and the other says "35
to
40". Maybe someone can take this farther than I did and come up with a better copy of the Barrigan version of the Ortiz Map.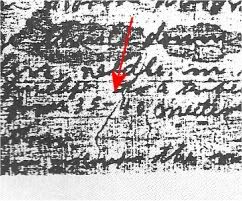 Corbin version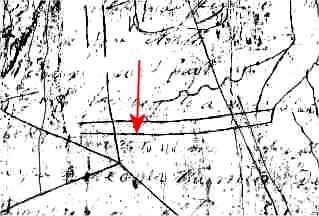 Barrigan version
Best,
Jim