By special arrangement with the Superstition Mountain Historical Society, and the Superstition Mountain Museum, on Aug. 3, 2009 Don Gilmore and Jim Hatt, were granted permission to photograph the Original Stone Maps, unobstructed, by the glass shield they normally reside behind.

Don's high quality equipment, and his expertise in the operation of it, (Along with the very professional assistance of his Lighting coordinator and wife Linda) has produced some of the highest quality photos ever taken of them.

The two photos below are ones I took of Don setting up his equipment for the shoot.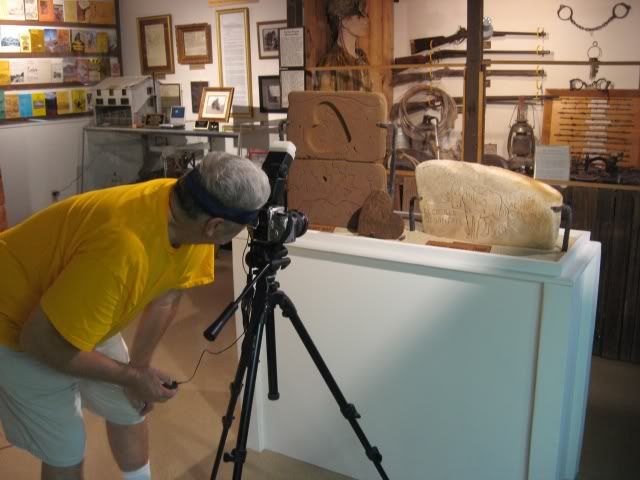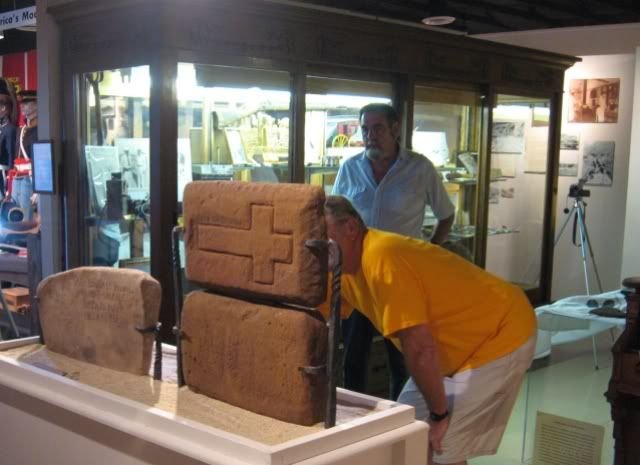 These may not be the photos Don would have selected (we had 75 of them under different lighting conditions to select from), but he didn't tell me which were his favorites so I picked the ones I liked the best. He may be uploading some more later, that highlight certain parts of each stone, or cropped sections enlarged for even greater detail if requested. (We also have some even higher resolution copies in RAW format that he may play around with and post sections of later). We did not get photos of the edges of the stones. The way they were mounted made it impossible to get a camera into the correct geometry for that, so we took what we could get under the circumstances.
HORSE MAP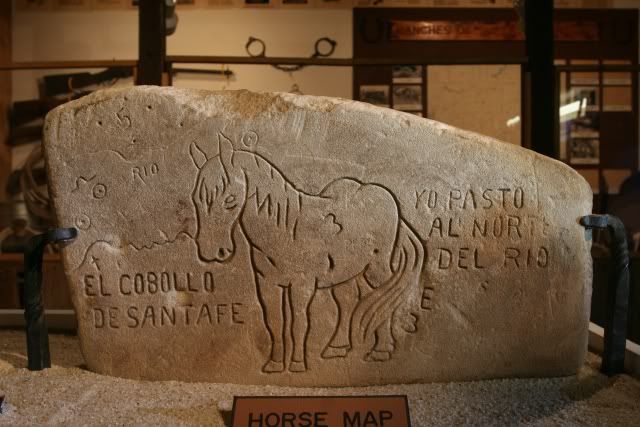 Link to higher resolution photo:
http://i212.photobucket.com/albums/cc73 ... eHigh1.jpg
Don't forget that you can hold your CTRL key and roll your mouse wheel to zoom in on them more.
PRIEST MAP
Link to higher resolution photo:
http://i212.photobucket.com/albums/cc73 ... tHigh1.jpg
TRAIL MAPS (TOP AND BOTTOM)
Link to higher resolution photo:
http://i212.photobucket.com/albums/cc73 ... lHigh2.jpg
BACK OF TOP TRAIL MAP
Link to higher resolution photo:
http://i212.photobucket.com/albums/cc73 ... sHigh1.jpg
BACK OF BOTTOM TRAIL MAP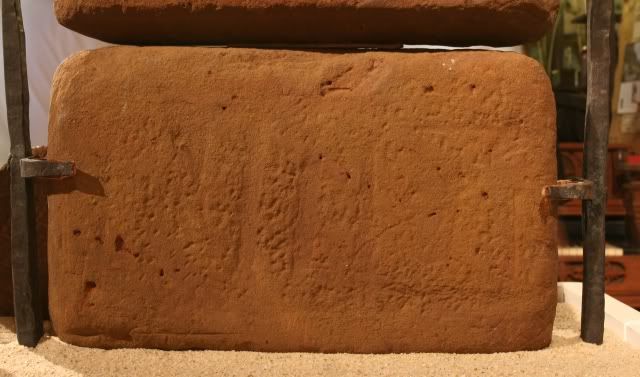 Link to higher resolution photo:
http://i212.photobucket.com/albums/cc73 ... nHigh1.jpg
FRONT OF HEART INSERT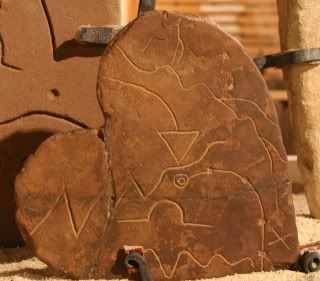 Link to higher resolution photo:
http://i212.photobucket.com/albums/cc73 ... tHigh1.jpg
BACK OF HEART INSERT




Link to higher resolution photo:


http://i212.photobucket.com/albums/cc73 ... kHigh1.jpg

The history of the Stone Maps can be found elsewhere on this website at: http://www.desertusa.com/ldm-1/peralta.html


It took a lot of work, on top of Don's 400 mile trip, to get these photos on here for your enjoyment. Don't forget to thank him for his (and Linda's) part in it.

And... If you happen to get by the Superstition Mountain Museum, let them know you appreciate their assistance in making these photos available also.


LINK to the Superstition Mountain Museum Website:

http://superstitionmountainmuseum.org/