Moderator: Jim_b
Posts: 819
Joined: Thu Feb 04, 2010 8:58 pm
anti-spam detector: No
The middle number please (4): 4
Location: Dutch's Ditch, AZ
In Ely's book
what is the main reason given
for why Waltz never did recover the gold?

Thanks
Ed
---
Posts: 368
Joined: Thu Jun 03, 2010 6:37 pm
anti-spam detector: No
The middle number please (4): 4
Location: Sunny Portland, Oregon
Hi Ed,

Waltz gives a couple of reasons as to why he never went back for the gold. But the main reason, I think - Waltz speaking "I have the right to work that mine, but I gave up that idea after my partner got killed. He was killed by the Apaches twenty years ago and I never wanted to work in the mine again." (Sims pg 97).

Waltz also did not want to return to the LDM alone, for fear of being spotted by the Apaches (Sims pg 98 and 108). This brings up the point that while some people think Waltz worked the LDM every year, but according to Sims, Waltz only went back to the LDM once. That doesn't eliminate the possibility that Waltz prospected in other areas from time to time.

Best,
Ashton
---
Posts: 819
Joined: Thu Feb 04, 2010 8:58 pm
anti-spam detector: No
The middle number please (4): 4
Location: Dutch's Ditch, AZ
Thanks Ashton!

I suppose, I can buy into the theory that Waltz didn't want to go alone into the Supers because of Apache threat. Yet, by the 1880's, I would think the Apache threat had diminished considerably. Plus, Phoenix was a bustling township with many seasoned prospectors. Certainly, if Waltz was braggadocios or flashing gold about many would have taken him into his confidence. The Starrar Bros being the closest acquaintances. Its hard to believe those fellows would not have accompany Waltz to the gold.

But then there is greed to consider…

The guilt theory-- I can understand-- somewhat.
That leaves Waltz a pauper.
A quiet unknown?
A pauper with a goldmine?

Why Waltz never went back for the cache or to mine the gold?
We need a solid answer to that conundrum…
Ed
---
Posts: 368
Joined: Thu Jun 03, 2010 6:37 pm
anti-spam detector: No
The middle number please (4): 4
Location: Sunny Portland, Oregon
Hi Ed,

You bring to light the most perplexing piece of the puzzle – a pauper with a goldmine? Was Waltz a braggart or a recluse? That all depends upon whose story you trust. I'm probably an advanced new-bee at this point and there's a whole lot I don't know, but (for now anyway) Sims seems the most trustworthy source to me. Which brings me to my point; in my studies, the only way to eliminate those blatant contradictions is to choose one version of the story and stick with it.

Here's another section in Sims that might explain Waltz's position (pg 98). "How come you never went back for that one?" Reiney wanted to know.
"Well, there were reasons, at least they seemed like reasons at the time," Waltz replied. "Your mother knows that I lived with the Pimas a number of years before coming back here to Phoenix, and all the time I kept thinking I'd come back someday for the gold in the large cache. But the Pimas were afraid of the Apaches, I hesitated to go in alone, and the time went by."

I suppose at the end of the day, Waltz was deeply remorseful that mining had caused the death of his partner, he might just have been burned out on mining as he remarks; "As last I got some spirit back…. and wanted to make another trip to the mine" – this was some years after Weiser's death. Waltz told Reiney living with the Pima Indians was very peaceful and while living with the Pimas he had an adobe house furnished with the things he needed (pg 108) and that attitude toward life might explain a pauper with a goldmine. And so before he knew it, time just slipped away….. as it is prone to do for all of us.

Best,
Ashton
---
Posts: 368
Joined: Thu Jun 03, 2010 6:37 pm
anti-spam detector: No
The middle number please (4): 4
Location: Sunny Portland, Oregon
Hey All,
I've been digging deeper in Sims and I'm starting to see some things I haven't noticed before.
Sims page 109 Waltz talking; "It's in a rough place and you can pass within 100 feet or so without seeing it. The gold's in a pit that the Mexicans started from the top. My partner and I just dug it deeper and IT'S NOT VERY FAR ACROSS."
Now that's interesting, Waltz is describing the shaft from the exterior and he says that it's not very far across. Waltz consistently describes the pit as being tapered toward the bottom, like an upside down funnel. If it is not very far across, then I have to believe that; either there were midgets working the mine -=or=- the mine cannot be circular, it's more of a gash or deep trench. I do not see how it can be both. If I am right about that, then the whole round issue (which, in my opinion evolved into the tale of 75 feet across) is because of Julia's misinterpretation of Waltz using a 'funnel' to describe only that the mine is tapered - and Julia envisioned that as meaning the mine was circular.
Forgive the crude drawing, but I believe this is closer to what is actually there than a circular pit: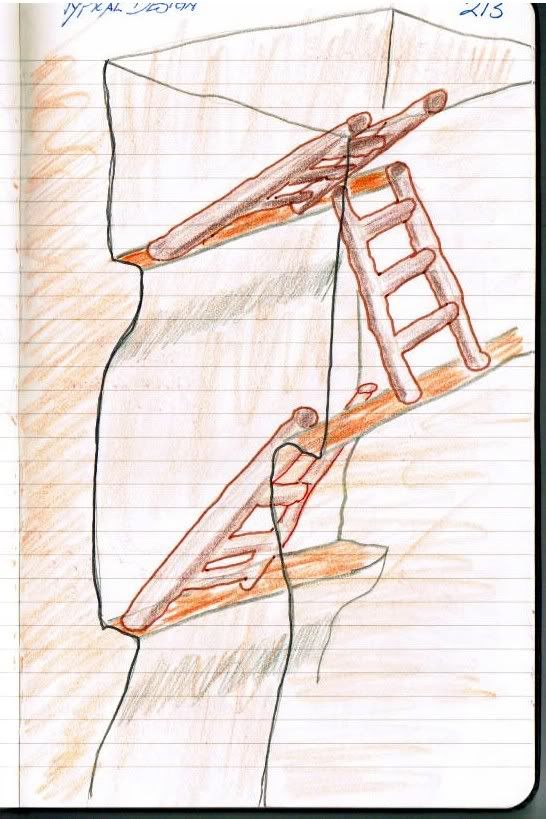 ---
Posts: 689
Joined: Mon Aug 17, 2009 7:00 am
anti-spam detector: No
The middle number please (4): 4
Ashton - you may be correct that it's not really a circular pit like one would envision a funnel shape (tapered at the bottom). I do have a couple questions and comments though that have always popped into my head about the actual mine...

1) From most sources I've read, Spanish and Mexican mining operations tended to be geared towards minimal effort for maximum gain. Meaning they would often create access points that would follow exactly on the richest section of ore and be only big enough for one person to crawl into and work. That to me would explain why "gringos" would expand the access point to make it easier to work.

2) Following up on my comment above, accessing an ore vein from above seems fraught with issues, not the least of which is how to re-cover it when leaving - especially since it hasn't been officially claimed and anyone else coming along discovering it could take it legally.

It seems to me that the access point - even after Waltz and his partner (if he really had one) enlarged it, probably wasn't all that big - the larger it would be, the more the problems in covering it I would think. A large "pit" hole to me would be something larger than say 6 feet or something just as a guess. A vertical hole like that would take a pretty good effort to cover up, and even then, wouldn't one always be afraid that a few heavy downpours would cause enough erosion that there would the risk of collapse - even if it were covered with timbers and then natural rock/sand/dirt to make it look like it was nothing more than a normal ground.

Maybe the simple reason Waltz didn't go back to the mine is he didn't trust anyone else to partner with him, and he realized how much work it would take to re-open the pit after it was completely and safely covered up? Without a partner to "watch" for indians and/or folks who may have tried to follow him, he would have been completely vulnerable to attack while working the mine.

Anyways - just a few more random thoughts to add to the mix.
---
Posts: 819
Joined: Thu Feb 04, 2010 8:58 pm
anti-spam detector: No
The middle number please (4): 4
Location: Dutch's Ditch, AZ
Thanks Ashton
Your quotes of Sim Ely
really makes me want to read the book !
It seems like if a person as some fundamental questions
then that text, certainly a source text,
would lead to some surer answers.

Ed
---
Posts: 368
Joined: Thu Jun 03, 2010 6:37 pm
anti-spam detector: No
The middle number please (4): 4
Location: Sunny Portland, Oregon
Hey Cubfan,

Good points. While I don't believe the following came from Sims, it has been reported that Waltz said he hid his mine with a juniper bush. If we're talking about a vertical pit, that makes perfect sense.

Sims, page 165 tells the story of Maria Rables who, as a young girl accompanied Juan Gonzales (one of Don Miguel Peralta's peons) to a gold mine in the Superstitions. Gonzales had previously accompanied Don Miguel to the mine and Sims believes "this was presumably the trip the latter (Gonzales) made with Weiser and Waltz." Obviously they were poaching the mine, but the timeframe is right and she may well have been at the LDM. If so, her description is interesting.

They went in via the trail past Miner's Needle, which is already established if you follow Sims, and I believe that is the trail Waltz intended to have Julia and Reiney take as he would point out the trail from the board house.

According to Sims; "Maria said that Gonzales and his partners brought gold up from a pozo (shaft)….. climbing short ladders, which stood on terraces." Sims goes on to write; "What did you see there?" I asked. And Maria answered that in the background, a few miles away, there were three peaks, the middle one being the furthest away. Jim and I recognized these peaks – they mark the summit of a long arm extending northwest from Tortilla Mountain…."

We don't have the transcript of everything Maria told Bark and Ely, but they were there, they knew the area and they concluded from what Maria said that this was Tortilla Mountain. In reading Sims account, I believe the most probable location would be east of Herman Mountain \ Music Mountain area. Just above the ridge of an unmarked trail that heads north from the head of Upper La Barge Box (but that's just my opinion). Interestingly, this would also be in the general vicinity of the "Soldier Camp" (pg 129 & 130) and Waltz said "We planned, actually, to do just as Peralta had done. That is to say we would ride between the camp and the mine." (pg 103) Does this mean that Waltz camped at Soldier Camp? It sounds like it to me.

Best,
Ashton
---
Posts: 247
Joined: Tue Dec 14, 2010 9:44 pm
anti-spam detector: No
The middle number please (4): 4
Location: Jamestown ND
[
Forgive the crude drawing, but I believe this is closer to what is actually there than a circular pit: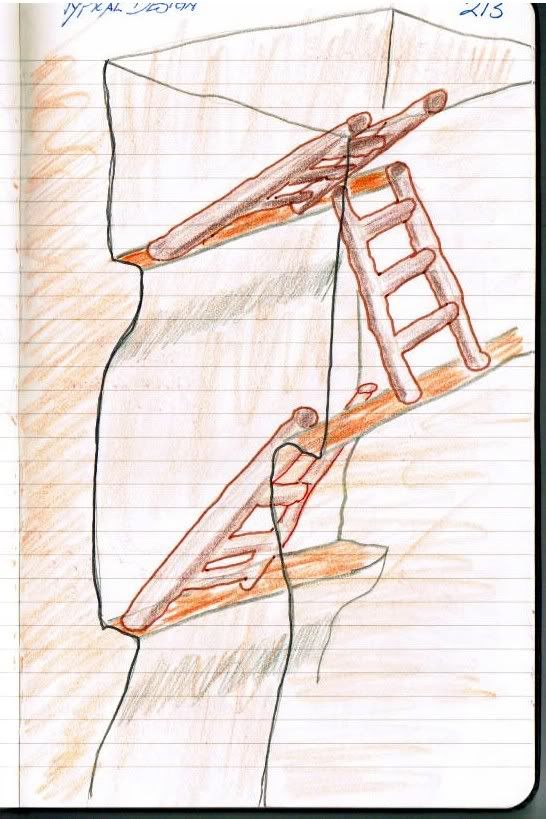 [/quote]
ASHTON
No gold crayola at the bottom of your mine. HA HA HA!
All fun aside I do believe your drawing is quite right. Native americans
used step ladder systems alot in thier daily lives.
Babymick1
Last edited by
babymick1
on Tue Nov 15, 2011 12:46 pm, edited 2 times in total.
---
Posts: 819
Joined: Thu Feb 04, 2010 8:58 pm
anti-spam detector: No
The middle number please (4): 4
Location: Dutch's Ditch, AZ
Certainly, trying to untangle the Lost Dutchman Legend
will lead to scrawling with crayons.
Excellent drawing
and a question
I'm noticing there is lots of direct quotes of Jacob Waltz in Sims book.
Who is the major source of these quotes? Julia?
Who were the major players that Sims interviewd
that personally knew Waltz?
Thanks Again
Ed
---