The Superstition Mountains have many places that will thrill you to the bone, and fire your imagination, if you are ever fortunate enough to stumble onto them. One of those places is the Miller Mines. Just a short distance (for a seasoned hiker) from Horse Camp Basin where Jim Bark and Sims Ely found forty acres of cut timber that they had no explanation for.

In chapter 10 of Ely's book, near the very end of it, Ely writes about Two trails leading away from the Horse Country which could have been used to haul the cut timber away. What he did not mention is… There is a third trail that intersects the two he wrote about, that leads right into the area where the Miller Mines are located.

Years after Bark and Ely had given up on the Horse Camp Basin area, an Indian who some believe was "Apache Jack" whom Ely mentioned several times in his book, became friends with George Miller. Miller had many mining claims in the Superstitions mostly located in various parts of La Barge Canyon where he often used Indian labor hired on a day to day basis to work for him. These Indian laborers would tease Miller with stories about rich mines the Mexicans had worked in the past, and they knew the whereabouts of, but would never disclose where they were.

One day the word came, that a family member of one of the Indian laborers (The one believed to be Sims Ely's "Apache Jack") back on the Reservation was very Ill, and not expected to live much longer. He informed Miller about the situation, and explained that he would have to leave but would return as soon as he could. Apparently he was a hard worker, and had impressed Miller with his honesty, because Miller told him to take his horse which would allow him to make it to the Reservation and back much more quickly.

It was only a short time before the Indian returned with Miller's horse, and showered him with Thanks and Appreciation, for trusting him enough to let him borrow the horse, and told Miller what a fine horse he thought it was. Seeing his delight, and suspecting a moment of weakness, Miller told him that if would show him where one of those old Mexican mines were that he was always talking about, he would give him the horse to keep.

The year was 1920 and a deal was made where the Indian agreed to take Miller to a place where he could point the way to the mine, and give Miller such detailed directions to it, that he would be sure to find it. But the Indian would not go to the mine himself. The Indian told Miller that the mine he would direct him to, consisted of Two Shafts on the side of a mountain, with a Tunnel below, that drifted into the mountain towards the Two Shafts.

The Indian took Miller to the spot indicated by the red arrow on the map below. He told him how to find the Two Shafts, and the exact distance and direction from them to go down the ridge to find the Tunnel. Miller started up the hill watching for the landmarks that had been described to him, as the Indian made himself comfortable to wait for his return. Upon his return, Miller announced that he had found everything the Indian had told him about and that the horse was his to keep!


Miller Map: The crossed pick and shovel is the location of the Miller Tunnel.




George Miller wasted no time in filing mining claims on the area, and moving his camp and equipment to those claims where he remained until his death on April 6, 1936.

Was this mine actually the Lost Dutchman Mine? Well… a good case could be made for it using "SOME" of the clues that came from Julia Thomas and Rhiney Petrasch. George Miller believed that it was the Dutchman's Mine, and actually sold stock in what he named The Lost Dutchman Mining Corporation.

From photos I have seen of Miller's operation when it was in full swing. He was only mining the shafts, and had a large head frame built over one of them, to lower the miners down and bring the ore up. Other than a few pieces of milled timber (4X4's) just inside the entrance to the tunnel, I saw no indication in the tunnel that any white man had ever worked in it. In my opinion it is typical of Old Mexican style mining with no timbering in it, and tunnels so small that an average size Anglo man could not stand up, or have room enough to swing a pick in.

Personally, I believe that a stronger case could be made for the Miller Mines being the ones that the two Soldiers discovered in 1880 and is described in chapter 5 of Ely's book.

If the cut timber from the Horse Country was hauled to this area, it was not used for timbering in the tunnel. It could have been used in the shafts, for corrals, and building shelters tho.

I have been in both of the shafts and examined the full length of the nearly 200 feet of underground tunnel. Samples I collected showed small quantities of gold. But I never saw the slightest sign of a quartz vein anywhere in any of them..

Photos of the 2 shafts on the Miller Claims.

Shaft 1




Shaft 2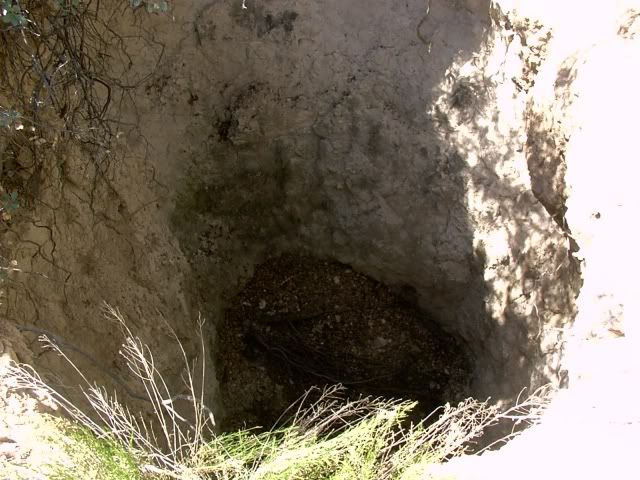 I have been in the tunnel a total of three times. On Feb 21, 2004, I made a trip into it with a friend and took the following photos.

Entrance to the Miller Tunnel. You must lay flat on your stomach and crawl through the hole to get into it.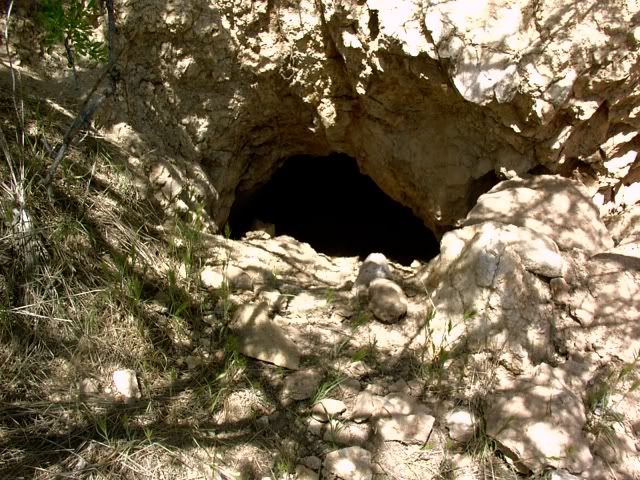 The following photos were all taken inside the tunnel.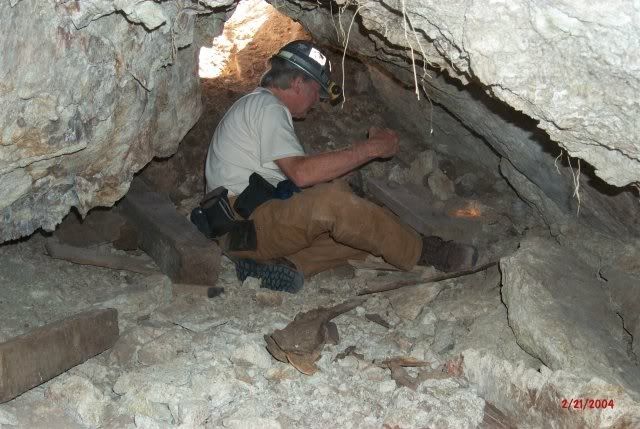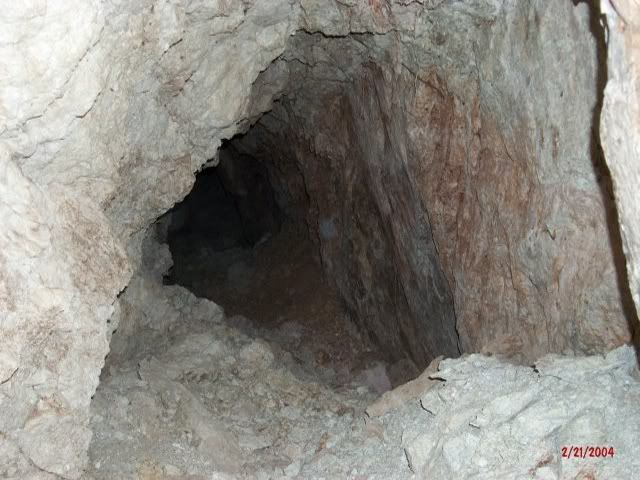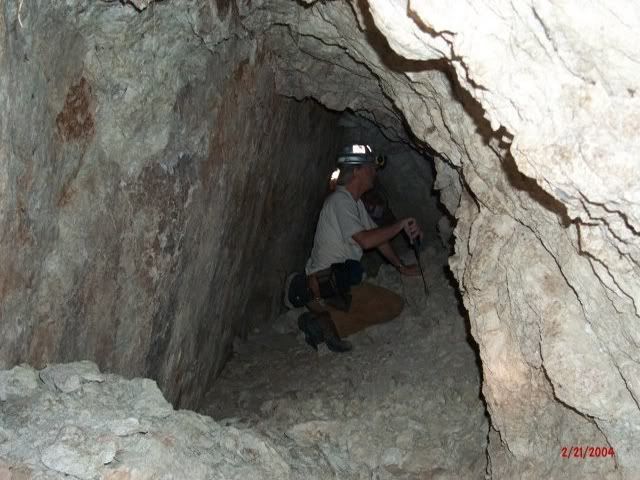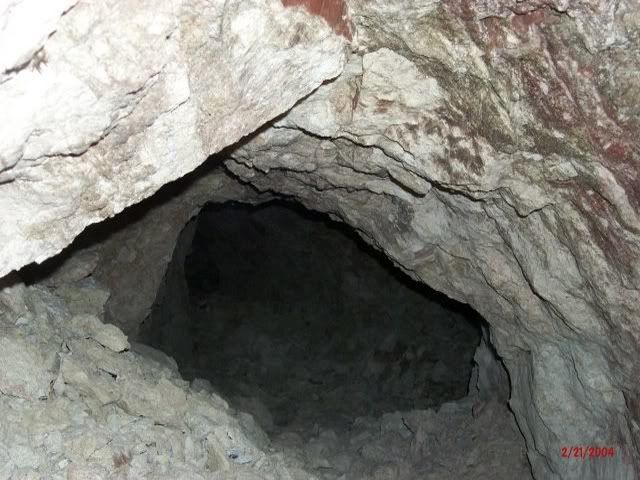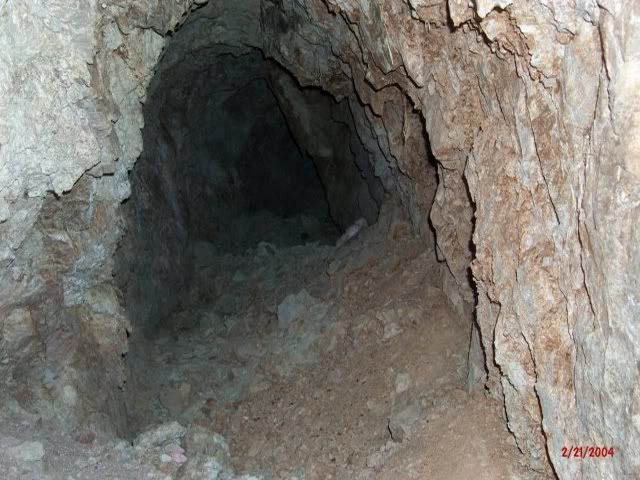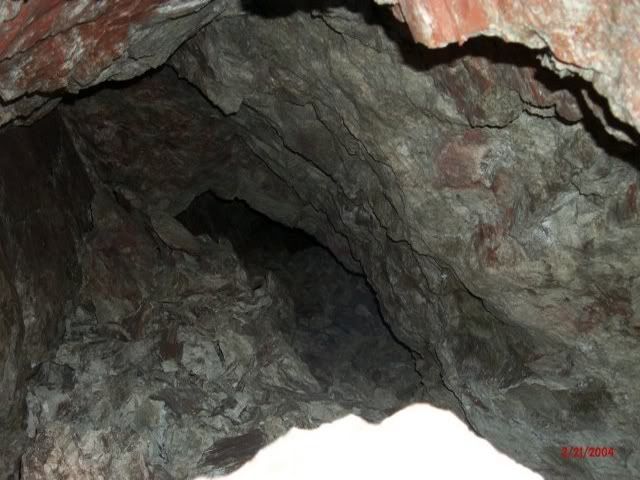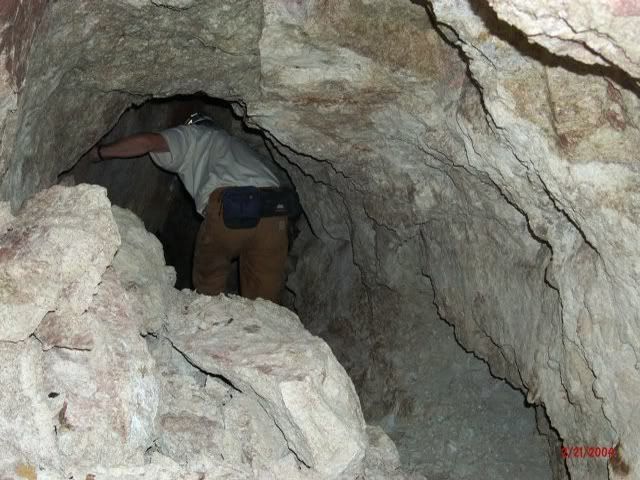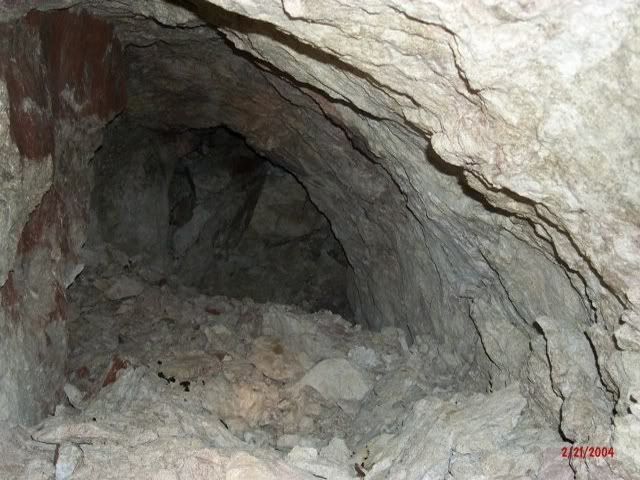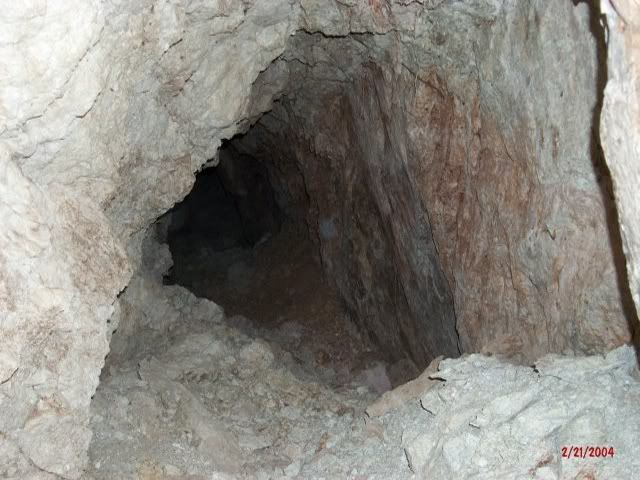 Related information.

In chapter 12 of Ely's book, starting on page 151. Mr. Ely tells a story about a Pima Indian named Pahsaum that took Jim Bark and another man, to a place on the Apache trail just before getting to Fish Creek Hill, where they were going to make a camp, and resume on foot the next morning to a mine that Pahsaum had agreed to show him. The place where they made camp was what is known today as the entrance to the old road to Tortilla Ranch. Jim Bark insulted the Indian by telling him that he knew that country, and there was no mine back in there. That ended that trip.

Had Jim Bark been more patient, he may have learned about the location of what many years later became know as the "Miller Mines" long before they were shown to George Miller.

This version of the Two Soldiers story (Below) comes from the Thomas Probert version of the Bark Notes, which may or may not be a good source of information, and is discussed in the Bark Notes Topic. Who knows if it is any more correct than the other versions or not, but it does contain a lot more information about the trail they followed from Ft McDowell to the "King" than either Storm or Ely gave. There are Three places where water would have crossed the road during there time. La Barge Canyon, Tortilla Flat and Fish Creek Canyon. I personally favor Fish Creek, based on how the rest of the description of their route after leaving the mine fits the terrain.


Mason asked the two soldiers if they didn't want a partner, instead they told him the following story. That they were discharged soldiers from McDowell, and had decided to come over to the King to see if they could get work in the mine. So they struck out toward the King, crossing Salt River, and struck s trail which they bad been told was the proper one to take. (This is now called the Apache Trail and is now an automobile road.) They followed it for several miles to a creek crossing, where there was water. The trail after that, appeared to run nearly north and the King was nearly south, so while they felt certain that the trail would eventually land them at the King, it must be a long way around, and they were tired. They decided to make a short cut, went up this creek for a distance, came to a waterfall and could go no further. They came back down the creek, and finally got out on the side of the creek toward the King and up on a very rough and high mountain There was no trail. They struck out, always trying to work toward their destination, but making very slow progress. They ran onto a trail and such a queer place for a trail, They concluded to follow it and see if it wouldn't lead them out of that God-forsaken country. They followed it but a short distance and were in high hopes when the trail led them through a cave between the peaks. They went on a little further and came to a tunnel that bad been walled up, with workings above and over. They said that they did not believe that what they saw was gold, as there was so much of it. They said they certainly could have loaded their burros down to the water line. They told Mason they bad never taken out their naturalization papers, and if ha would go over to Tucson with them and help them get out the papers upon their return, which would not be more than ten days, he could go with them to the mine; that they would take just one claim and he could locate all the balance. Mason said, "All right" that he would look for their return.