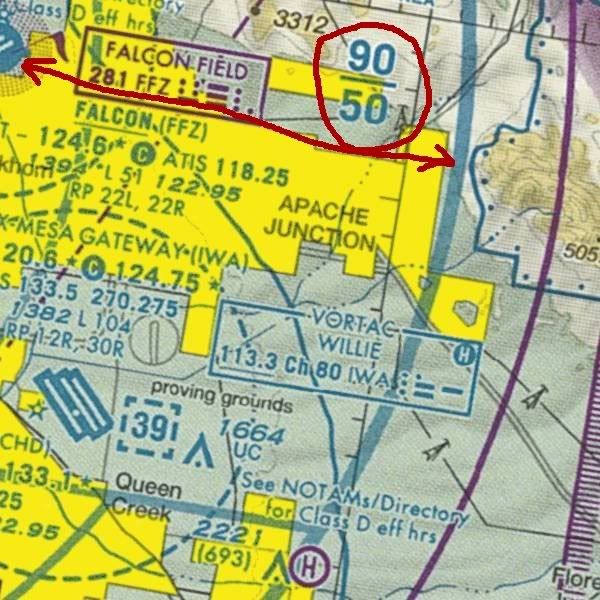 Roc:
A portion of the current VFR Terminal Area chart showing the area.
Falcon Field is to the left and the outer boundary of the KPHX Class B airspace is to the right.
The total distance is about twelve miles.
The numbers circled in red are the upper and lower limits of the bravo airspace in that area.
All aircraft between 5,000 ft and 10,000 ft must be in contact with Phoenix Control and have ATC clearance to be there.On my older chart it was 8,000'-10,000'.
The person quoted is correct in that this becomes potentially hazardous for aircraft departing to the east from Falcon and may have contributed.The AC 690 is a very capable transport aircraft with high levels of performance.From the end of the runway to Flatiron likely only taking about 6-8 minutes,the pilot would have been under a very high workload.He may have been given an initial clearance to 4,500 ft. and was in the process of contacting PHX with a request for higher,when he simply ran out of time.Dark mountain peaks are difficult to make out at night.
A YouTube video about the AC type.
http://www.youtube.com/watch?v=lGBYf5KN ... re=related
A second.
http://www.youtube.com/watch?v=wEK1U2CC ... re=related
Regards:Somehiker