On Jun 2, 2009 I was hiking down the old dirt road that leads to Tortilla Ranch from the Apache Trail. About 1 mile from the Apache Trail I came across something in the middle of the road that I hadn't seen but just a few times in the 20 years I have been in Arizona.
A big fat Gila Monster!

When I first saw it, I didn't think I would have time to get my camera out of my backpack and get a photo of it before it scurried off into the bushes. I stopped about 10 feet from it and stood perfectly still for about 30 seconds. He didn't move. Very slowly I unbuckled my backpack and lowered it to the ground. Unzipped a side pocket and got my camera out. I got my photo and he still seemed to be unaware of my presence.

I took a couple of steps closer and got another photo, another step closer and a third photo. I switched my camera to preview mode to make sure the photos were there, which they were, and quickly switched back to photo mode. When I looked back towards him, he was gone.

I looked off to the side of the road and I could see the grass moving. That had to be him. I switched my camera to movie mode this time, and set out to follow him and get some video of him in motion. I followed the moving grass (not getting too close) until I saw him climb up onto a small ridge and out in the open where I could get some good video of him.

The three photos and short video are below
.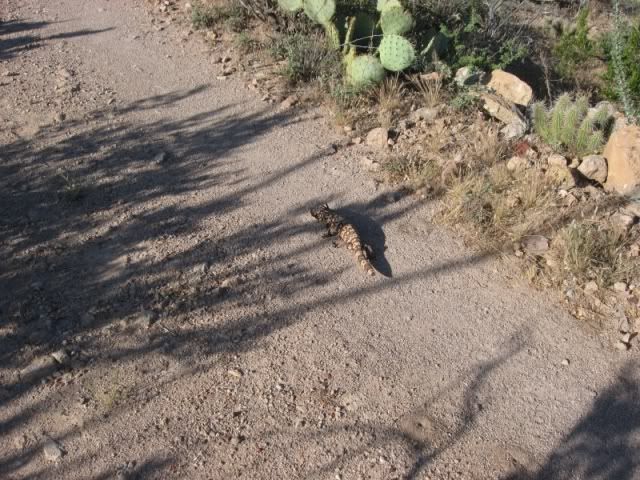 I CROPPED AND ENHANCED THE THIRD PHOTO SO DON CAN SEE HIS HEAD





Click on this link to see the video
http://s212.photobucket.com/albums/cc73 ... Mvideo.flv