Greg,

There are only Two exceptions I know of where real gold does not look like gold. One is Black Hills Gold, that comes from the Black Hills of South Dakota. Which is often less than 10K Pure but is still referred to as gold. (Don't ask me why)

The other is Peg leg's gold which was supposed to be covered with some kind of black desert varnish. If you scrape the varnish off, it is gold in color underneath it.

The only way way gold can be any other color than gold, is if it is alloyed with other metals. In order to be considered as gold, it needs to be at least 10K pure. If it is that pure, it will look like the gold you see in 10K jewelery. If it is less pure, it is not considered to be gold until the impurities are removed.

Most gold found in Arizona is 18-20K in purity, whether it comes from a Hard Rock Vein or panned out of a wash as Placer.

EXAMPLES:

24K Gold = 100% Pure Gold
12K Gold = 50% Pure Gold
10K Gold is Less than 50% Pure Gold but is still gold in color.

I am including a photo below of some placer gold panned out of a wash here in Arizona. What you see in the photo is exactly like it was found. It has not even been cleaned.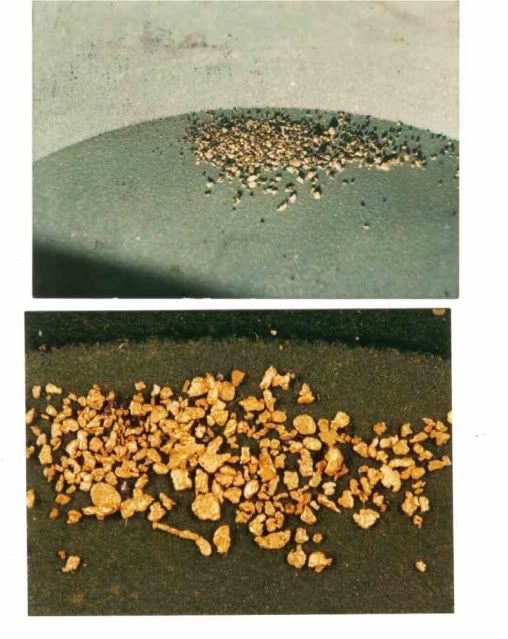 Here is a photo of what gold looks like in quartz.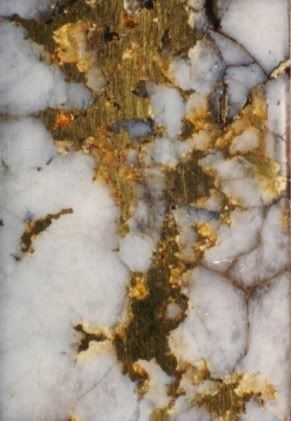 Now, Here's the catch. It is often said (and rightfully so) that it takes a trained eye to tell real Real Gold from Fool's Gold. With the exceptions above. Real Gold ALWAYS looks like gold. The problem is that there are other things that can look like gold to the untrained eye. ie: Iron Pyrite and Mica Pyrite (both aka; Fool's Gold) fool a lot of people.

Hope that answers your question,

Jim