Back in the early 90's when I was still carrying a 35mm film camera. I was hiking alone, back in the Horse Camp Spring area, about 2 ½ miles South of the old Tortilla Ranch in the Superstition Mountains when I came across a female deer acting very strangely.

She had bolted from a dense thicket of bushes about 20 feet away from me as I approached it, and startled me almost as bad as I had apparently startled her. As she ran away from me I saw that there was something red showing under her white tail. At first I thought she was wounded, but nothing in the way she ran and jumped, suggested that there was anything wrong with her.

Then, when she was only about 200 feet away from me she stopped cold, turned sideways and looked straight at me. I had never seen a Deer do anything like that before. They usually kept going until they disappeared over a ridge or behind something. I just stood there looking back at her bewildered by her actions. After about 30 seconds of staring into each others eyes, she began moving her head, grunting loudly, and scratching at the ground with her right front hoof, and then she just stared at me again.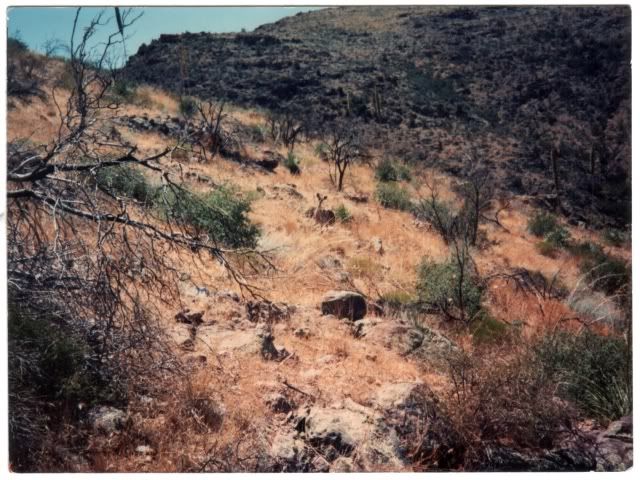 Next she turned 180 degrees to where she had her other side fully exposed to me and began scratching at the ground, moving her head and grunting some more.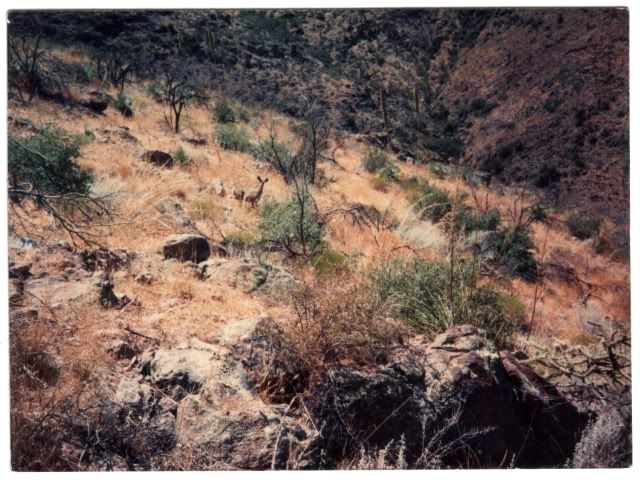 As I was standing there wondering why she did not run away, I heard something rustling in the bushes she had bolted from. I stepped up onto a boulder by the bushes and what I saw on the other side of it explained everything. Two brand new Fawns, both staring up at me. They were so tiny that it was hard to believe they were able to stand up and walk.




After just a few seconds, one of them even tried to climb up on the boulder where I was standing to get closer to me.




When I looked back at the mother, I saw her slowly working her way back towards me. (You'll have to look very close at the center of the photo to see her, she blends in very well with the background)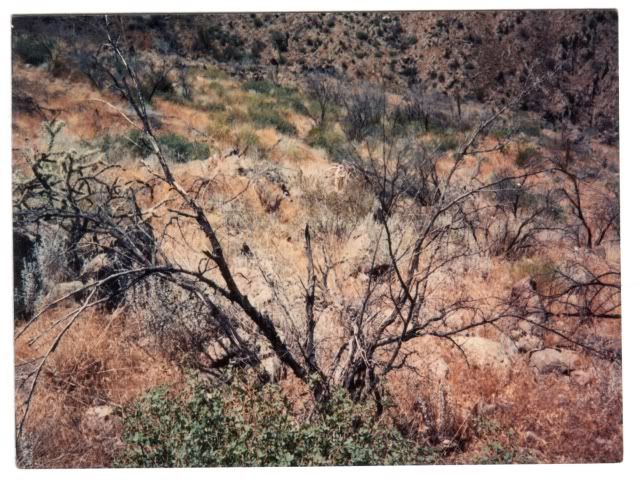 As she worked her way back to the brush thicket, both Fawns sensed her presence and turned towards the direction she was approaching from.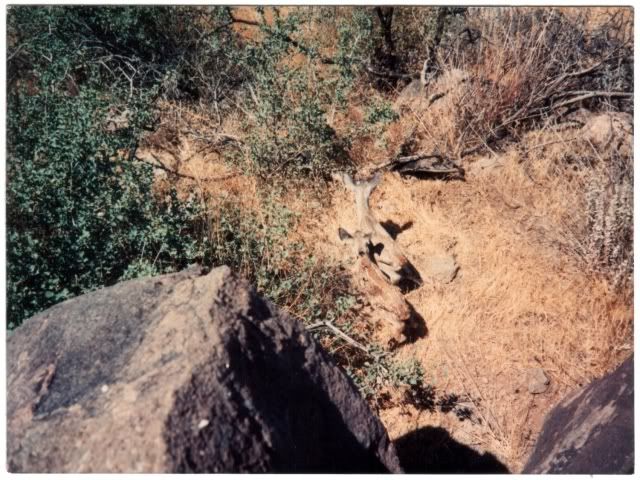 I looked in the direction the Fawns were looking in, and there she was. Only about 20 feet away from me. Peering through the bushes to see if her babies were alright. (Again you will have to look real close to see her. She was looking straight at me when I took the photo) She must have given them some kind of signal that there was danger close by, because one of them went into the bushes to hide, and the other one laid down right where it was and didn't move. You can see the one that laid down in the photo if you look close.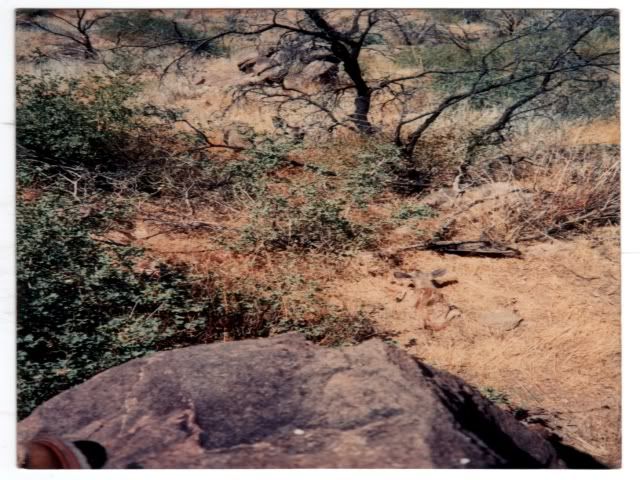 Next thing I knew she just walked calmly right up to her two babies, and they began nursing as she just stood there watching me. I wanted a photo of that so bad! But I was afraid that if I moved I would spook her and she'd be gone again. Finally I couldn't resist any more and slowly moved my camera up to get the photo. The very instant that I snapped the shutter, she bolted!




When she finally came back again. I didn't try to take any more photos. I just sat there motionless for about thirty minutes watching her lick herself and her babies.
It was one of the most memorable days I have ever spent in the mountains.




For those of you that cannot see the mother Deer in the second to the last photo, I have added a red arrow to that same photo that points to her head. Look for her black eyes. The rest of her will come into focus after you find them.