Colorado River Lakes

Water Levels & Temperatures May 2022

The Colorado River supplies all sorts of recreational opportunities to residents and visitors to the desert southwest. These are centered around four major lakes created by dams along the river: Lake Powell, Lake Mead, Lake Mohave and Lake Havasu. Here you can see current water and air temperatures for each region, along with information about what to do and where to stay.
Click on the links below for more information on each lake.
Lodging Page, AZ

Water Level and Temperature
Water level 23.8% full
Water Temp 58+

Lodging Where to Stay - Boating

Water Level and Temperature
Water level 33% full
Water temp 59+

Lodging Laughlin, NV - Bullhead City, AZ
Water Level and Temperature
Water level 93% full
Water temp 58+

Lodging Lake Havasu City
Water Level and Temperature
Water level 92% full
Water temp 59+



Lake Powell has officially dipped just below 3,525 feet in elevation, reflecting the Colorado River Basin's dry winter season. The dip is temporary and was reflected in last night's end-of-day hydrology report. The reservoir's elevation is expected to climb above 3,525 feet through the course of the spring runoff season.
The target elevation of 3,525 feet provides a 35-foot buffer and allows time for response actions to help prevent Lake Powell from dropping below minimum power pool (elevation 3,490 feet), the lowest point at which Glen Canyon Dam can generate hydropower. Reclamation's Upper Colorado Basin Region and the Upper Division States, with the assistance of the Upper Colorado River Commission, are preparing a Drought Response Operations Plan that will propose additional actions to help protect Lake Powell elevations in 2022 if appropriate.
Rivers feeding Lake Powell are running at 42% of the average rate. Lake Powell is down 40 feet from one year ago. Inflows for Water Year 2022 are 131% of Water Year 2021.  Watch your stuff, stay safe.
Alerts in Effect Multiple Lake Powell Launch Ramps Closed Due to Low Water
Consistent with CDC guidance regarding areas of substantial/high transmission, park visitors, regardless of vaccination status, are required to wear a mask inside all park buildings.
Water Elevation Lake Powell By Month
Chart by year from 1998 to 2022
Water releases from the Glen Canyon Dam fluctuate based on power needs, which can sometimes leave downstream river users high and dry - literally! Generally, less water is released on Sundays. The Colorado River provides water for 40 million people across the Southwest.

Road Conditions Check for updates
The public is asked to use extreme caution when using the public launch ramps at Lake Powell. Most of the main boat ramps are open. The deepest launch ramp at Lake Powell continues to be Wahweap main ramp. Different boat/trailer combinations require varying depths of water, so remember to assess the water depth for your boat before launching.
Castle Rock Cut and Antelope Point Marina Launch Ramp Fully Open. Boaters should still be aware that while the ramp is open, launching at these water levels is not safe for all sizes of boats and launching is at your own risk.The Wahweap fish cleaning station will be closed until further notice.
Date Posted: 3/24/2022 Closed to all access: Wahweap Stateline, Wahweap Auxiliary, Bullfrog North. Inoperable to motorized vessel: Hite, Halls Crossing, Bullfrog Main Spur, Antelope Point Public, Wahweap Main. More...
While the main ramp is closed, the north launch ramp remains open and available to all boaters and another launch location for vessels up to 20 feet in length was added east of the main ramp.
Lower water levels have exposed rock formations that havebeen hidden underwater for years. Boaters must be extra vigilant to avoid an unpleasant run-in with the Navajo Sandstone. At the current lake level, there are no available marina facilities or public launch ramp at Hite Marina.
Glen Canyon asks visitors to play it safe while in the park. Bring water, snacks, hats, sunglasses and sunscreen - and use them. Visitors on the water should wear life jackets. Cliff jumping is not recommended and illegal at 15' or greater. Boating after dark is discouraged due to sub-surface water hazards.
Dangling Rope Marina Closed Throughout 2022 
Carl Hayden Visitor Center January through February, 8:30 a.m. to 4:30 p.m., rest of year, daily, 8 a.m. to 6 p.m.; closed Thanksgiving, Christmas, and New Years Day. Call 928-608-6404 for more information. The exhibit area at the Carl Hayden Visitor Center will be closed for renovation.
Navajo Bridge Interpretive Center –8:00 a.m. to 6:00 p.m. daily.
Bullfrog Visitor Center, Bullfrog, UT, Thurs-Sunday from 9-1. Call 435-684-7423 for more information.
Wahweap Main and Bullfrog launch ramps and screening for the invasive mussels by trained personnel will be mandatory for all vessels. Currently, Lake Powell is believed to be free of quagga and zebra mussels. However, zebra and quagga mussels pose a major threat to Lake Powell if they were to become established. Experts fear that zebra mussels could spread quickly through the Colorado River watershed and potentially establish themselves in other river systems.
The ferry https://www.udot.utah.gov/.../lake-powell-ferry-crossing/
Date Posted: 10/21/2021
No dock access to the shoreline at Rainbow Bridge due to low water. Boats and small vessels beach at your own risk. While no longer connected to the shoreline, the docks will still be accessible with restroom facilities. Winter trail crews will rebuild.
Lake Mead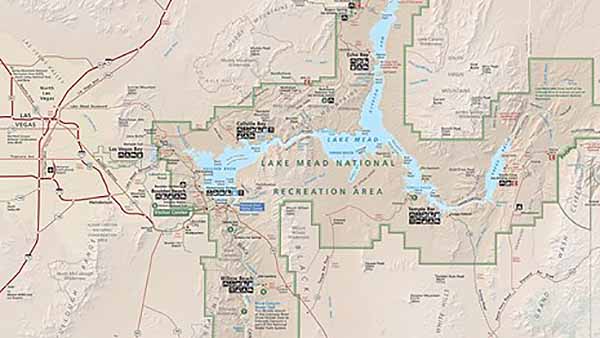 Chart by year for Lake Mead from 1998 to 2022
Water levels: Lake Mead level is down about 24 feet from last year at this time. The lake water level is about 34% full. Inflows for WY 2022 are 83.% of WY 2021. Launch ramp conditions at Lake Mead have improved significantly thanks to a $1.5 million construction project that began in late July 2017. The project involves underwater excavation, dredging, grading and construction of reinforced concrete ramps. The concrete ramps will extend down to the water's edge, and concrete panels or steel pipe mat will extend roughly six feet below the current lake water surface.
Lake Mead Ramp Status Low water
Current Conditions at Lake Mead & Lake Mohave
The park is located in both Nevada and Arizona.
Please check with the most recent state orders before traveling.
Most restrooms and stores are closed. Please bring everything you need, including water for you and your pets, and pack out everything you bring in.
Remember, Styrofoam and glass are never allowed in the park. Thank you for keeping your park clean and trash free.
Historic Railroad Trail Tunnel 3 Closed Until Further Notice Due to visible deterioration of the support beams within Tunnel 3 of the Historic Railroad Trail, this tunnel is closed, until further notice. Visitors may hike from the trailhead to Tunnel 3 and back. Access into the tunnel is prohibited.
Multi-vessel/vehicle discounts are no longer offered for latest fees see park website.
Lake Mojave and the Colorado river
Multi-vessel/vehicle discounts are no longer offered - for latest fees see park website.
Laughlin on the Colorado river.

No one may operate a personal watercraft (PWC) that does not meet the 2006 emission standards set by EPA for the manufacturing of two-stroke engines. A person operating a personal watercraft that meets the EPA 2006 emission standards through the use of direct-injection two-stroke or four-stroke engines, or the equivalent thereof, is not subject to this prohibition and will be allowed to operate as described in this section.
Sunset Katherine's Landing South end of Lake Mohave 3/1/2020
The NPS and Forever Resorts, LLC dedicated the first floating building project in the world to be registered for LEED® certification at Lake Mead National Recreation Area's Cottonwood Cove Resort and Marina on Lake Mohave.
The bridge over the Hoover Dam is open for traffic.
DesertUSA has videos on Lake Mead and Hoover Dam, Glen Canyon Dam, Lees Ferry, Rainbow Bridge, and Lake Mojave's Davis Dam and Laughlin, NV.
You can now experience the Colorado River via Google Street View.https://www.google.com/maps/about/behind-the-scenes/streetview/treks/colorado-river/
Take a virtual trip on Lake Mohave and the Colorado river in this DesertUSA video.
Lodging Laughlin, NV - Bullhead City, AZ
Send us your river stories and pictures to share with fellow river lovers. What else do you want DesertUSA to cover in our updates? Let us know. E-mail pictures and comments to [email protected]


Click on the picture above to read the story of the Hoover Dam Bypass Bridge,
named the Mike O'Callaghan-Pat Tillman Memorial Bridge.

Share this page on Facebook:
---
DesertUSA Newsletter -- We send articles on hiking, camping and places to explore, as well as animals, wildflower reports, plant information and much more. Sign up below or read more about the DesertUSA newsletter here. (It's Free.)
The Desert Environment
The North American Deserts
Desert Geological Terms
Copyright © 1996- DesertUSA.com and Digital West Media, Inc. - -